Váltás magyarra (Change to Hungarian)
---
Miklós Riedel
associate professor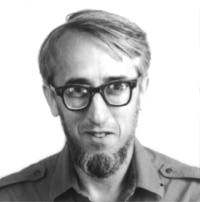 Address:
Eötvös University, Budapest
Department of Physical Chemistry
1518 Budapest 112, Pf. 32.
phone: (36-1) 209-0555
fax: (36-1) 209-0602
e-mail:riedel@ludens.elte.hu

---
Personal data
Curriculum
Born at 1939 in Budapest, graduated at the Eötvös University (chemistry and physics).
Since 1963 with the staff of the Department of Physical Chemistry.
MS 1968 (thesis: Thermal ion emission from tungsten)
PhD 1979 (thesis: Secondary ion emission of concentrated alloys)
Family, hobbies
married with Ildiko Hobinka
children
Rita
Miklós
hobbies: skiing, sailing, books, photo, antiquities, Hat Museum
Scientific activity
Recent fields of scientific interest
secondary ion mass spectrometry (SIMS), energy distribution, quantification
environmental chemistry, acid rain, rapid tests in screening studies
chemical education, movies, computers, multimedia, internet
environmental education
Former scientific activities and results
inorganic and physical chemical mass spectrometry
kinetics of thermal ion emission studied by TOF MS
diffusion and recrystallisation in solids studied by mass spectrometry
high temperature surface reactions
secondary ion emission of concentrated alloys
secondary ion emission of amorphous metals
new standard materials for microanalysis
Visiting scientist abroad
Boris Kidric Institute, Vinca, Yugoslavia, (Prof. B. Perovic* 1973-1975
Humboldt University, Berlin, Germany, since 1982 regularly
Seibersdorf Research Centre, Austria, since 1980 many times
moreover: University of Münster, University of Kaiserslautern, University of Dresden
more than 90 papers,
35 in international journals and books
50 lectures and poster at conferences
25 books, leaflets (mass spectroscopy, secondary ion mass spectroscopy, experiments in physical chemistry, computer assisted measurements and calculations, energy, quantities and units in physical chemistry, physical chemical calculations)
35 articles in scientific newspapers, scientific and educational movies
KATION internet journal for chemistry teachers
Teaching activity
Courses
Lectures in physical chemistry for undergraduate chemistry teacher students
Laboratory courses, computer assisted teaching (calculations, simulations, on-line measurements)
Special courses (mass spectroscopy, surface analysis, quantities and units)
Lectures for chemistry teachers (energy sources, thermodynamics, units in chemistry, acid rain, computer assisted chemistry teaching)
Educational organising activity
Retraining courses for chemistry teachers (materials structure, thermodynamics, computer in chemistry, environmental protection) Student competitions, olympiades, Grand Prix Chimique, Hungarian Vocational Competition
Diploma works and IAESTE guest students
30 diploma workers so far.
Offered topics: computer in chemistry teaching, multimedia, on-line data evaluation, remote measurements, amorphous alloys in SIMS, acid rain, environmental chemistry studies, exotic fluids, alkali migration on cathodes, chemical index of the Danube, vast free chemistry teaching.
Connections
International Cooperations
Humboldt University Department of Physics, (H. Düsterhöft) - secondary ion mass spectrometry
Seibersdorf Research Centre (F.G. Rüdenauer) - secondary ion mass spectrometry
Chemisches Institut Dr. Flad,Stuttgart, Germany (Chemical education, UNESCO projects)
Round-robin experiments
Cross Calibration Experiment (CCE) 10 European SIMS laboratories (1985-1990)
Acid Rain Monitoring Network (SEMI) 80 schools in Hungary (1990-1995)
Membership in scientific organisations
Organising international conferences
3rd Int. Conf. on Secondary Ion Mass Spectrometry, SIMS III, 1981, Budapest
13th Int. Mass Spectrometry Conference, 1994, Budapest
1st European Conference in Chemical Education, 1998, Budapest